Description
APR Stage 1 ECU Upgrade – Audi TT RS
APR is pleased to present the ultimate engine control unit (ECU) upgrade for the 2.5T EA855 EVO (Gen 2) engine!
APR's ECU Upgrades are the best dollar-per-horsepower modification one can make to the 2.5T engine. The upgrades dramatically increase horsepower and torque, making for an exceptionally quicker and more exciting vehicle. This is made possible through APR's optimization of the factory engine management system to take full advantage of the engine's capabilities, without needing any end user adjustment. The software loads to the factory ECU through the OBD-II port, resulting in a clean and headache-free install. Optional features, such as APR's EMCS Program Switching and APR Mobile are available. Furthermore, for those looking for tuning with a limited powertrain warranty, APR Plus has you covered!
APR ECU Upgrade Stages
APR's ECU Upgrades are available in multiple stages, supporting various octanes both with or without any hardware modifications. Specific software is available for use with a high flow downpipe exhaust system and drop-in turbocharger upgrades are coming soon. Each stage is fully compatible with an upgraded intake, intercooler, catback exhaust, or other minor bolt on modifications.
Each stage includes optimisations to the factory boost gauge making it react more quickly and corrections to the power and torque gauges to match the increased output. Furthermore, we've added left foot braking, removed the speed limiter, raised the rev-limiter and added a motorsport limiter, adjusted the factory exhaust crackle to protect the catalyst, optimised cold start, retuned the exhaust flap actuation for the best performance and sound in multiple modes, optimised high altitude mappings, retuned the throttle for better response, and completely optimised the driving experience for street and track use making for a much more enjoyable driving experience!
APR Stage 1 ECU Upgrade
The APR Stage 1 ECU Upgrade is the first step towards making more power! This simple upgrade requires no engine hardware modifications, and produces 459-542 HP with 451-506 FT-LBS of torque, depending on octane. Gains as high as 66-132 HP and 88-146 FT-LBS of torque are available throughout the power band. To get more power, the vehicle can be outfitted with an upgraded intake, intercooler, catback exhaust and other small modifications without requiring any new modification to the ECU. Upgrading the small factory intercooler is highly recommended on this platform.
APR Stage 1 is available for 95 RON, 98 RON, 102 RON, 104 RON, and 108 RON fuel grades.
Stage 1+ Requires intercooler and intake upgrades
APR World Class Calibration Expertise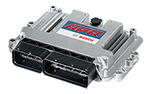 Tuning 101:
The 2.5T engine uses a Bosch MED 17 ECU for engine management. Basically, it's a computer that tells the engine how to operate. Tuning software, like the APR ECU Upgrade, tells the engine how to make more power. It does this by running more boost pressure, optimizing the cam shaft positions, adjusting the air/fuel ratio, advancing ignition timing, and more.
A Better Engine Management System:
The 2.5T's ECU is incredible. Without the driver knowing otherwise, the ECU makes intelligent adjustments to the engine's operations to keep it running smoothly. Unlike ECUs found in many other makes and models, when properly tuned, the ECU eliminates the need for custom tuning to maximize output, even when weather conditions change dramatically.
How APR Differs from the Competition:
The ECU is powerful, but extremely difficult to master. Without mastery, the ECU must be simplified, removing what makes it so desirable. The result is an incomplete product that often requires end user adjustment to maximize output in limited scenarios. On the contrary, APR's Engineers spent the better part of a decade mastering the ECU to unlock its full potential. With complete access to the thousands of maps, tables and variables within, as well as a high-level understanding of how it works, APR's Engineers were able to take advantage of everything the ECU has to offer. Power is maximized in nearly all scenarios, eliminating the need for end user adjustments. High performance operational modes are enabled and calibrated to deliver smooth daily driving, with a snappy and responsive throttle during moments of spirited driving. Mastery of the boost control system makes for an impressively predictable driving experience as the turbo spools quickly, delivering instant power, while torque-by-gear helps with traction control and protects the engine from being lugged out in tall gears. Lastly advanced high-output protection routines are enabled, allowing the ECU to make constant adjustments to airflow and fuel to cool and protect the engine, all without the driver knowing otherwise.
Extreme Testing
APR's ECU Upgrade has been full tested for the better part of a year prior to a public release. This includes summer and winter weather testing on multiple continents, high and low altitude testing, extensive track testing at multiple road courses, extensive drag strip testing and extensive road and daily driving testing. APR's test vehicles are full instrumented with multiple sensors, including pre and post intercooler temperature and pressure sensors, pre and post turbine temperature and backpressure sensors, pre and post catalyst temperature and pressure sensors, and multiple pressure sensors throughout the intake system. APR test vehicles have seen over 700 HP in various configurations, on the stock engine internals, and have set multiple world records, including 10.5 second stage 1 quarter mile passes, and 9 second stage 3 passes.

Acceleration Enhancements:
Beyond horsepower and torque enhancements, APR's Calibration Engineers were able to increase the acceleration rate of the vehicle through other calibrations changes. Ignition delay is reduced resulting in a more responsive pedal without altering overall throttle sensitivity. Furthermore, throttle lag commonly noticed at slow speeds and while reapplying throttle has been reduced.
Speed Limiter:
APR's ECU upgrade increases the vehicle's top speed limiter for blistering sprints around the track or across the Autobahn without the speed limiter shutting down the fun.
Left Foot Braking:
APR's Left Foot Braking feature allows more control over the vehicle's throttle. The factory equipped vehicle's throttle input is disabled while pressing the accelerator and brake at the same time. Left Foot Braking, a common motorsport driving technique, allows the driver complete control over the vehicle's throttle and braking system, which may give the vehicle the edge it needs at the track. This feature is available when traction control is in sport or disabled.
Motorsport Rev Limiter:
APR's Motorsport Rev Limiter allows the engine to reach max RPM without the ECU slowing down acceleration nearly 150 RPM earlier. The result is more power to redline and a definable redline feeling as seen on other AudiSport vehicles.
Increased Fuel Economy:
APR's Calibration Engineers paid close attention to several parameters directly related to fuel economy, especially while cruising at highway speeds. Depending on driving style and fuel quality, better miles per gallon may be achieved.